This is a great Thanksgiving scrapbooking project (and a good way to recycle!) that is fun and easy to do! I found this can of mixed veggies while I was cleaning out my pantry and realized it had expired.
This is what I decided to reuse the can for.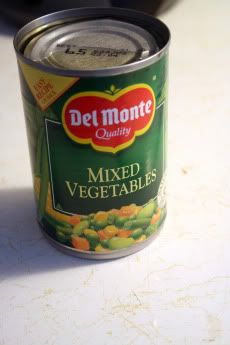 First, your are going to want to open the can and empty it's contents.
Save the lid, you'll need it later.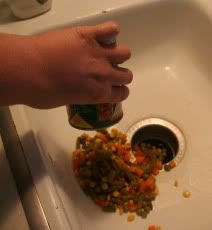 Wash out the can once it is empty.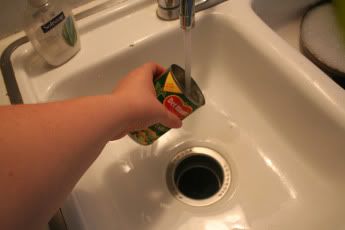 Take the label off of the can and recycle it.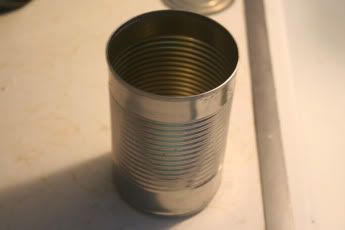 Use the lid as a painters dish to hold some white acrylic paint.
Use a foam brush to generously cover the outside of the can.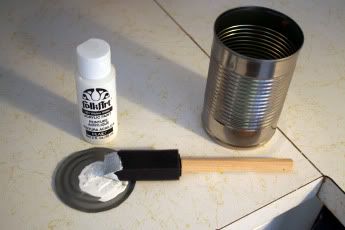 While the paint is still wet, sprinkle on some orange glitter.
Don't worry about being precise…it looks better if you just add it randomly.
Be sure to hold your can over a tray of some kind to catch the excess glitter.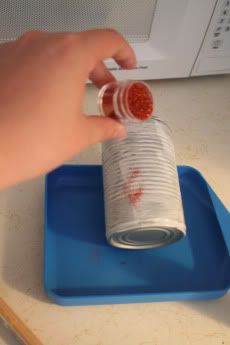 Next, gently tap the can so that any loose glitter falls into the tray.
Next, allow the can to sit and fully dry. If you want to make sure the glitter will stay on especially well, I recommend spraying the whole can with clear lacquer after the paint has dried.
When everything is dry, use your Crop-a-Dile to punch 2 holes in the can, directly across from one another (this will be where you tie the ribbon that will make your handle).
Finally, dress up your can with some handmade embellies and silk florals. Tie on some ribbon for your handle, hang it on the door and enjoy!
(Click to see larger image)
This craft is really easy enough I think you could do it with kids, so long as you were careful with the sharp edges of the can.
These also make great gifts!
Have a good afternoon.